I found this old girl in a gun shop and after kicking it around for a day I decided that I had to have it. It had no butt pad, gun was full of rust and so gummed that it hardly worked. After I got it home I asked NYECO what I needed, he said screwdrivers. So after ordering screwdrivers and waiting for weeks I was ready to disassemble. Before, sorry I didn't take more before pics.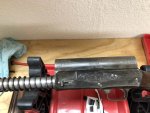 I completely stripped it. Then I soaked it in rust remover, it cleaned all of the old bluing and rust off. Then I used some scotch pads to finish it.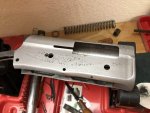 After I had her all stripped and finished I applied cold blue to the barrel and receiver.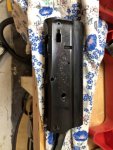 After that I reassembled everything and put the new recoil pad on. I sanded it down as in
@NYECOGunsmith
how to thread. It worked good, except I didn't use enough tape, and now I need to refinish the stock.
I think it turned out good.