New Frontier Armory C-9. Takes glock mags. Comes with the sig romeo 5 red dot, Magpul AFG/MS3 sling. Includes 2 ETS 31 round mag and a 15 round pmag. Less than 500 rounds through it. I am located in Las vegas.
$7̶2̶0̶ without the red dot
$8̶5̶0̶ with red dot
$680
for everything.
View attachment 39331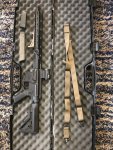 Last edited: