Relatively new shooter here. Finally at the point that I feel I can hold my own at the range, but as my accuracy has improved overall, I've discovered a bit of a quirk in my shooting.
When aiming slightly below the shoulder line, my accuracy is significantly better than when I'm aiming at or above the shoulder line. This is true whether I'm firing my .38 snub nose or 9mm semi, but the effect is much worse on the 9mm. Any tips or tricks I could try out to help remedy the situation?
EDIT:
If it matters, here's what I'm talking about. Target 5 is the lower, and target 3 is the shoulder line. Both are at 10yds on a 9mm.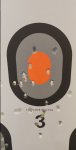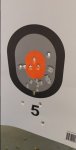 Last edited: