Obsessed Member
Forum Supporter
2021 Supporter
I just purchased this scope from a forum member. 5-20x version. Full disclosure: I haven't used Night Vision Optics since I went hog hunting in Texas four years ago. I'm not sure I will ever use this at night, although I wouldn't mind going coyote hunting with someone with experience. So I bought this because I was intrigued by technology and features that this $799 offered.
OVERVIEW:
This is a day/night vision riflescope with digital zoom 5-20x. Has hi res video and still photo recording onto micro SD card. Internal rechargeable battery. Comes with external IR illuminator an 3 sets of scope rings.
SOME KEY FEATURES:
1. Best battery life in the industry! 16-18 hours on a full charge! The unit I took to Texas was good for maybe 2 hours on 1 cr123.
2.Excellent quality recording.
3. Stores 7 ammo profiles.
4. Choice of 6 reticle. My favorite is the Smart mil dot which functions like a FFP on an optical scope.
5. Ballistic calculator.
6. Live streaming to cell phone or pad. Your shooting buddy sees what you are seeing in the scope
7. 1 shot zero.
Plenty of other stuff that you can see on numerous YouTube videos
.
FIRST IMPRESSIONS:
Feels robust and well built. Less intimidating without shade and rubber eyepiece. Weighs in at 2.2lbs. The imaging is exceptionally good, given this is digital. You also lose some resolution as you zoom out, as is the case with all digital optics. A lot of menu options which will require a learning curve. I found the front objective focusing ring to be overly stiff as is the diopter focus adjustment. Water resistant, NOT waterproof. The app for cell phone provides all of the menu options that the scope does, so you can make changes from the phone instead of looking through the eyepiece. Firmware updates are done with the micro SD card and looked more involved than I wanted to do. Lousy 2 year warranty.
Overall, I think this a very impressive feature loaded package for the money! Next stop: range test. I'll update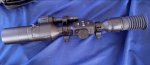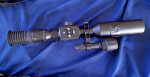 Last edited: