Since I bought my BANSHEE 10mm AR pistol, I've had the AR PISTOL bug and have been looking for a 9mm little brother.
Did some research and came up with a laundry list of desired features.
GLOCK mags
8" + barrel length
LRBHO
FORGED AL
CERAKOTE other than black-ish
Sub $800 buy in
Unfortunatley, the CMMG models were priced out of that range, being that they were $1K +
I really like their delayed bolt, but figured I could live without it on the 9mm rnd.
Found the BRIGADE brand and liked what I saw.
I went to my new IDAHO (thats my new digs) FFL and picked it up Thursday. Yesterday I ran its 1st box of ammo through it and I couldn't be happier.
She ran the box spliting it up between 2 25 rnd mags. Just some basic Magtech 115 grn RN FMJ.
Then the problem appears...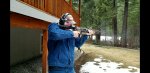 Last edited: