Hi everyone, in order to find a new project I need to sell something off so here's a beauty of a FAL variant which I'm not worthy of, and it shouldn't be a safe queen.
ITEM:
1. Semi-auto Springfield Armory Pre-Ban 1005-SA-48-Match in 308, with the 4 magazines as shown and wood furniture. This rifle is in excellent condition with minor safe and / or handling marks. To be honest I can't recall if it was ever fired after purchase.
This is the one with the Imbel lower and Israeli upper (check out photos - even though it has the full selector this is SEMI-AUTO *caps added for emphasis*). This has an adjustable gas block, carrying handle, as well as a shoulder holder (or whatever that's called on the butt stock).
PRICE:
$2150 (can't find one on gunbroker but had a couple dealers tell me what they thought they could sell it for these days if they see or get them)
LOCATION:
SW Vegas
TRANSACTION LOCATION:
Most likely Bass Pro or in that vicinity. We can negotiate a reasonable radius.
OTHER:
1. Cash only
2. Must be a Nevada Resident
3. No bill of sale necessary (unless you want one) but I will ask to see your drivers license or CCW
4. No lowball offers will be considered or responded to
5. The only offers I might consider with additional cash if necessary is a precision rifle in 308 with optics and bipod. I have an idea of what I'm looking for which is why this is up for sale.
6. PM's are best way to reach me on this
7. Per forum rules first posted "I'll take it" wins even if we've been PM'ing on the side.
Thanks for looking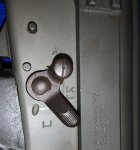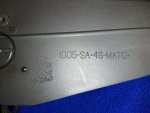 Last edited: