For sale I have a Sig Sauer P226R chambered in .40 S&W with a German frame. Slide is smooth as butter and I've never had a malfunction.
Still life left on night sights and it shoots straight. Great physical condition with only minor knicks on accessory rail and grips.
Comes with 3 sets of grips, (3) 12 round magazines, and the original blue case.
Asking
$700
obo.
Entertaining trades, but only interested primarily in the CZ P01 or SP01 in 9mm. Located in Summerlin area of Las Vegas.
Buyer MUST show ID and possess CCW or PILB if they wish to exclude an FFL from the transaction.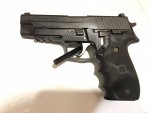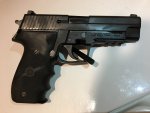 Last edited: