Sold-Glock 19x


$550 Cash
$600 Trade

Comes with 3 mags and Vickers night sights. (Tritium front, and blacked out rear)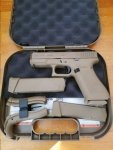 Sold-Grey frame Glock 19 gen 4


$500 Cash
$525 Trade

Stock.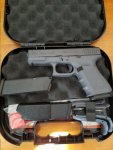 Glock 34 MOS gen 4


$600 Cash
$650 Trade

Comes with 3 mags, Dues Ex Machina trigger, Taran Tactical master trigger kit, Dawson's Ice magwell. 1 mag has a weighted base plate.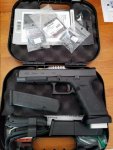 Sig Sauer P320 subcompact
$450 Cash
$500 Trade
9mm
Comes with night sights and 2 mags.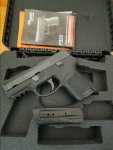 More so looking to sell but I'm open to trades. 9mm pistols, factory AR15s, and AKs mostly but let me know what you have.
More items in the comments.
Items are cross listed but I will update as items go.
I am a ccw holder, would like for you to prove you can own a gun as well.
(ccw, guard card, old blue cards, or gun store firearm purchase receipt)
Legal deals only.
Meet at Bass Pro only.
Las Vegas.
Last edited: