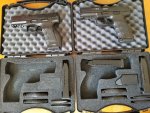 Hk Vp9
Comes with factory case, manuals, and 2 magazines.
Sold-Hk Vp9 LE
Comes with factory case, manuals, 3 magazines, and has night sights.
First one sold will come with a L.A.G Tactical iwb holster.
Open to trades, not really looking for anything specific at this time, just seeing what's out there.
Can do +cash or add-ons from either party.
I am a ccw holder, would like for you to prove you can own a gun as well.
(ccw, guard card, old blue cards, or gun store firearm purchase receipt)
Legal deals only.
Meet at bass pro only.
Las vegas.
Crosslisted.
Vp9
$525-cash
$550-trade
Sold-Vp9 LE
$625-cash
$650-trade
Buy both for $1100
Last edited: