The snowy wet cold Reno weather put me in a tinkering mode!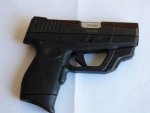 Purchased this aftermarket single action trigger for my 709 recently. I had previously put one in my G2. It's a broader fatter trigger and has allowed me to shoot both guns more precisely.
It does away with the trigger safety and double strike capability. Some people may not like this and so this trigger may not be for you.
It has only been available for a few months and can be purchased on ebay for $28.
I put it in myself and I'm not a gunsmith.