My woman and I both own KIMBER MICRO9 LG's.
Mine has been flawless, while hers needed some slight extractor adjustment, perfect since They are our everyday carry.
Kimber has come out with an 8 rnd magazine to compliment the 6 & 7. As my GF and I are not small people, I felt that more grip and an extra round could be an advantage.
Kimber had 20% off and free shipping so, what the heck ... I ordered up a pair for us.
they came in today. I took some comparison pics and loaded them up to let the spring settle.
This weekend we'll take them out for testing before we run them full time.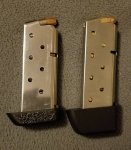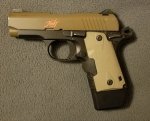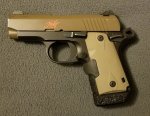 Last edited: