Member
Commercial Sponsor
Hello everyone!
The weather is getting more and more forgiving every day and we know that means more and more of you will want to get as much trigger time in as possible. Because of that, we have made sure to have a ton of ammo in stock at great prices.
Calibers IN STOCK;
.380 ACP
9mm
.40S&W
.44Mag
.45ACP
12GA
5.7x28mm
.22lr
.17HMR
.223/5.56 (OVER 50K)
7.62x39mm (OVER 35K)
7.62x51mm
.300BLK (220gr. Subsonic)
.308 Win
6.5 Grendel
Most of our inventory can be bought by single box or in bulk.
If you have any questions come down, call, or send us a PM. We look forward to hearing from you!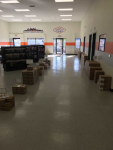 Last edited: