UPDATE on page 2, different ammo had no issues.
Just got a new PSA AK47 Gen 3 in, took it out to shoot for the first time yesterday and had a very quick failure. I got through 10-12 rounds out of the first mag and had a misfire, cycled and it fired another round or two them misfired again. After that, 100% failures. I checked the rounds and it looked like it might be a light primer strike issue. Stripped it down and the firing pin is not moving at all, it looks slightly bent or off-center in the bolt.
That's a pretty fast failure for a rifle that's designed to be extremely reliable. Got the firing pin out and these shavings came out with it. With those out of there the firing pin now moves freely. Are those from the pin itself? There don't appear to be any chunks of it missing. Anybody had an issue like this before?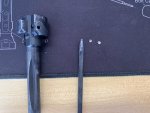 Last edited: