I'm selling my Sig P220 Dark Elite 45 ACP with SRT trigger and Adjustable Night Sights and (1) 7 round Mag. The gun is worth $950 as is, Im willing to sell for $700 OBO to fund another project.
The mags value (6) total $240
for all. The mags can be purchased for $200
I'm in Henderson
Buyer must have NVDL and NVCCW and will do Bill of Sale.
We can do transfer at Bass Pro shop.
Only trade I'm looking for right now is a HK VP9SK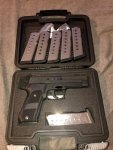 Last edited: