Sold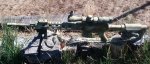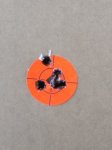 The rifle is made up from the following:
Detroit Gun Works matched upper and lower receiver set
Odin Works 18" 223 Wylde 3-Gun rifle length
ALG Defense Quality Mil Spec Trigger-QMS-Tuned By Geissele
Nordic Components free float tube
PSA 5.56 Premium HPT/MPI full auto BCG
Magpul BUIS (front – MBUS, back – MBUS Pro)
Vortex Crossfire II 2-7x32 scope
Burris AR PEPR scope mount
LUTH-AR Modular Carbine Buttstock Assembly MBA-3
The rifle has had a rattlecan paint job from me, blends in very well with our Northern Nevada desert. I have spent over $1200 having this rifle built, but do not shoot it enough to warrant keeping it. The group is at 100 yards with Fiocchi Exacta 69gr ammo, is a typical 5-round group with this rifle at just over 1/2 MOA. Hit golf balls at 200 yards all day long. Have shot 200 rounds through this rifle, all factory, no steel casings, no issues whatsoever. Want $900 obo in Reno/Sparks/Carson City area. Comes with 2 30-rounds mags and a 10-round mag. Sling and bipod not included.
Last edited: