I aim to misbehave...
Staff member
Moderator
Forum Supporter
2019 Supporter
2020 Supporter
Located in NW Sparks. Meet for transfer at FFL of your choosing in Reno/Sparks area, buyer covers transfer fees.
XDm Competition 9mm. Duo-Tone with a 5.25" barrel. Approx 800 rounds fired. All three 19 round mags, factory holster and case plus a left hand LAG owb holster. $450.
No trades. PM me with any questions. Thanks for looking!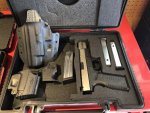 Last edited: