Leave me alone.
Forum Supporter
2021 Supporter
2022 Supporter
2023 Supporter
2024 Supporter
Trading Post Subscriber
I carry this Model 65 a lot. You'll have a hard time convince me there's a much more perfect carry/fightin configuration for a revolver than a 3" round butt K frame.
I bought a spare hammer assembly, so I could keep my original matching one. I got lucky and it dropped right in. Passed function and safety checks without needing any fitting.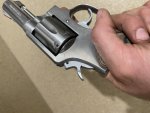 So today I grabbed the gunsmiths best friend, the dremel, and cut the spur off. I didn't take many pics along the way. After the cut off wheel I contoured everything with a sanding wheel on the dremel. Working slowly. This left a rough finish, so I went inside to my bench and started working on the shape with needle files and then went to sand paper.
Files, then 400, 600, 800 grit to make a nice matte but smooth and even finish.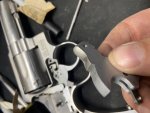 Fit it back to the gun and double checked everything. Need to take it to the range to make sure the reduced mass doesn't negatively affect primer ignition. If it does I'll have to shim or replace the mainspring with a slightly heavier one.
Anyway, came out decent. Matches pretty well. I probably could have shaped and contoured it more, but my goal was to remove as little material.