Got a new stock to play with for my Finnish M39 that has a PSOP scope drilled onto it by interordinance when it was imported. Stock was also cut a bit to mount the PSOP.
Ordered this stock from Rhineland arms to make a faux l96/sv98. Because why not. I need to sand the inside of the stock as the receiver is basically only sitting on the stock and also stain and finish it.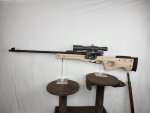 Nevada shooters says this photo is too large but here's the before photo.
Last edited: