Peacemaker
Forum Supporter
2019 Supporter
2020 Supporter
2021 Supporter
firearms are fully functional the revolvers are all matching and the first models to do as described *(see details below.)
Colt M1877 aka "lightning" 38LC made in 1891 Nickel model-950$ cash
Colt M1877 -lightning sheriffs or shopkeepers model made in 1881
Nickel- 950$ cash
*These were the first known double action revolvers made on the market.
Colt Army M1986 38LC made in 1902. This model escaped common lanyard handle on the bottom. Hair trigger in Single action. Used in the "banana wars" in the Philipines before the upgrade of 45acp revolvers.- 600$ cash
* first revolver to have a swing out cylinder
Colt M1903 .32 pistol is no longer available
I can provide additional pictures to interested parties.
Will be crosslisted on that other sight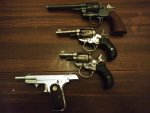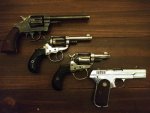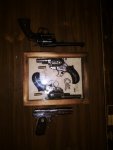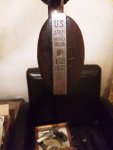 Last edited: