Up to now I have been fine with my semi high end 18" SPR build and shooting/reloading 77gr TMKs for the last several years. Cheap fun when one reloads. No problems shooting/hitting steel at 1000yds with it consistently with low/moderate winds. 1/2" shooter all day if I do my part. But the need for a little louder steel hit and something that can buck the wind better was due.
I'm officially part of the 6.5cm bandwagen and very happy with my choice for a starter... Bergara B-14 HMR/22" 6.5cm. Everything fit and finish wise is spot on to me. Smooth bolt function, clean trigger feel, etc. The only complaint/nag I can come up with is that you have to lower the cheek riser to remove the bolt. Nitnoid. Plus there was a "trick" to mount my MKM mount/Magentospeed at the correct angle since the stock isn't flat up front. Other than that dialed.
Shot it the first time a week ago breaking in the barrel with some bulk range ammo and then some factory 147gr ELDMs to finish that session. Not totally happy with those results. My suppressor changed the harmonics a bunch. Something I haven't seen on any of my ARs so something to learn more about. My 100yd results with and without the suppressor was quite different. Especially with the plinkers (Winchester 125 OTs). Reloading will eventually come so I can get a load dialed in but for the time being/brass collecting time looking for something factory that this gun with my suppressor likes...
Made it out this past Friday and shot a bunch of my buddies reloads and some bulk Hornady 140 BTHP just to get some more trigger time behind it. The bulk Hornady 140 BTHPs shot fairly consistent in the 5 shot/.75" arena. Not bad for bulk plinkers.
Went out again with my buddy to DSRPC on Sunday and my order of 140gr ELDMs had shown up so shot up a box to see what there was to see. Extremely happy. Shot 2x5 shot groups on paper with 1/2" grouping. Adjusted zero for 200yds and shot the other 10 at random steel. First 2 shots was on the 1000yd steel and easy hits with both and the rest went on random steel on closer targets. Found my factory ammo it likes. I'm happy with 1/2" 5 shot groups with factory ammo.
I started out with my NF SHV 4-14 F1 (on my AR mount/not the best on a bolt gun) on it but within the week I was already missing my SPR being in action so took my Athlon BTR off my precision 22lr Saturday and tossed it on for Sundays session. Again not exactly the right mount for the application but I didn't have to move it in the mount for correct eye relief so piece of cake to remove and toss back on my precision 22lr. Not as nice of glass but gets the job done until I can save up for something specific for this gun. First time I have even looked at 1000yds through that scope since it has been on my Precision 22lr for nearly 2 years.
Original config before swapping scopes. (I love my MKM mount set-up for the Magentospeed!!!)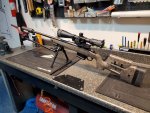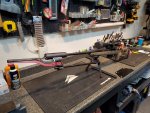 With the Athlon on it.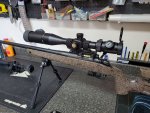 Buddies barrel cooler he 3d printed for me Saturday in use. Works AWESOME!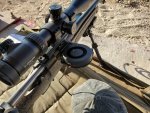 Works for me with factory ammo. Will need to re-check the 147s now that I have a few rounds through the barrel. I might of jumped the gun trying them with under 100rds through it last week.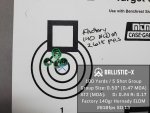 I've shot several chassis guns in this caliber and own several in smaller calibers and really wasn't sure if I would like a "normal" stocked gun but in the end extremely happy with my choice and can highly reccommend this Bergara B-14 HMR to anyone that is thinking of jumping into the bandwagen like I did. The right price IMO. Once I get my reloading act in gear and have some time with this caliber we shall see what is in the future.
Tom
Last edited: