Wheel Gun Guy
Forum Supporter
2021 Supporter
Cleaned up my reloading/gunsmithing area the other day and snapped a pic. It's not common that you can actually see the surface of the bench haha.
Built this little bench a few years back, rough sawn cedar (the 'office' still smells like pencil shavings). This is a scaled down version of the ever present NRMA bench, without the cabinets. It's built into what used to be a closet in our home office.
It's literally wedged (forced) in between my safe and some pretty-existing shelves so it's really sturdy.
It's not much, but it gives me a place to work inside the house. It was so nice of my wife to 'allow' me to build a little section in 'her' office.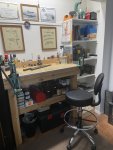 Last edited: