Looking to sell my TC\R22 Performance Center. I'm including both stocks pictured as well as the Holoson optic. The optic will need to be sent in for repairs as it turns off after every couple of shots. I have it's factory packaging.
These rifles are awesome, it's basically a 10/22 with all of the bad manners corrected. It has last round bolt hold open, you can rack the rifle into action without having to touch any extra buttons and the rail is monolithic. These also accept most 10/22 upgrade parts.
Barrel is a threaded fluted match barrel.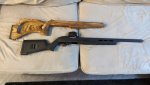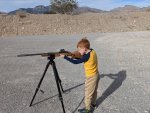 These are currently not available for sale and the two used ones I found fs were at ridiculous prices.
$450
Located in North West Vegas.
Last edited: