Leave me alone.
Forum Supporter
2021 Supporter
2022 Supporter
2023 Supporter
2024 Supporter
Trading Post Subscriber
Anybody seen anything like this before?
This happened today. Was shooting in a bolt action ruger. I fired, it sounded a little funny and my face got peppered with crap.
Opened the bolt (it was pretty stiff) and ejected this. This was the first round I fired from the box. I've never seen a failure like this. I didn't notice anything wrong with the ammo when I loaded the magazine. I unloaded and put it away.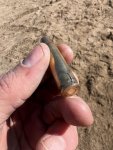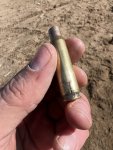 So then I went through the box. Found these other 3. How weird is that! Same exact spot, same linear mark….They were located somewhat randomly throughout the box. Not touching each other.