So, about a 4 months ago I decided to upgrade my full-size Sig P320 to a Wilson Combat FDE frame module.
The original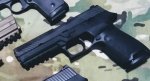 3 weeks ago I got a email that they were back in stock and bought one. Ordered tungsten weights for the module to go with them. About $100 for both module and weights.
Upgraded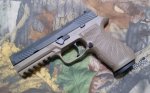 Very easy to install. Wilson Combat even has a YouTube video detailing how to do it. Took a whole 15 minutes to do the job. Wiped the module & weights down with alcohol wipes before installing as instructed.
The weights also need to be in a specific order and are well marked as to which one goes in the proper slot in the module. The weights use a silicone glue to hold them in place.
Comes with the mag release already installed as well, it is reversible. Can't believe this was so easy. First thing I noticed right away was the "rattle" my P320 had was reduced greatly.
Then off to the shoot. All I have to say is I love the new feel of the grip,. It's more rounded, more aggressive textured and just fits my hand a while lot better. 100+ rounds later I love it.
Last edited: