Up for sale is my Sig Legion P238 - Sig has discontinued this model and these are getting hard to come by. I shot it only a few times for about 50 rounds or less. It was used for situations when I required deep concealment. Original owner, non-smoking home. I haven't carried or shot it in over a year, so It's time to let it go. If you have not held the 238 Legion it has a longer grip than the normal 238 because of the added magwell. This is the best shooting .380 I've ever owned. It's hard to part with it, but I have other guns on my mind currently. Not looking for any trades at the moment. These are selling for $1500+ used on gun broker currently. Comes with the three mags it came with from the factory, Three 7+1 and two of them have pinky extensions.
Was $1300 now $1000 firm local price, saves me gunbroker fees and the headache of shipping it out.
Will meet at local FFL for transfer. Prefer Ventura Munitions or Controlled Pair Munitions.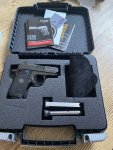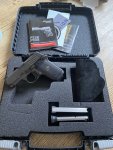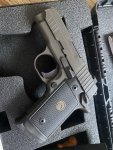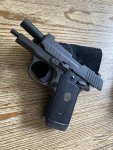 Last edited: