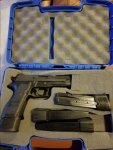 The last 45 in my collection.
Mostly looking to trade for a 9mm Sig Sauer P226/P229 Legion DA/SA , or towards a Springfield M1a, but I'd be open to offers of like 2 9mm Glocks, or a Cz Scorpion Evo 3 S1 pistol plus cash. Just the pistol, I dont need a brace as I'd probably be SBR-ing it.
Open to other trades as well, listed above is just what I'm looking for.
Comes with factory case, 4 mags, has night sights, and SRT.
Can do +cash or add-ons from either party.
I am a ccw holder, would like for you to prove you can own a gun as well.
(ccw, guard card, old blue cards, or gun store firearm purchase receipt)
Legal deals only.
Meet at bass pro only.
Las vegas.
Crosslisted.
Cash - $900
Trade - $1k
Last edited: