Looking to make room in the safe.
Beretta px4 inox in 9mm,with competition trigger group, switched to g model with the slim profile decocker and added the extended mag release. Will come with 10 mags and small of back holster.
Asking 900.00 obo. Now 825.00
There is about 550 in extras..
Not looking to part out.
Added pre 64 model 94. This appears to be a pre war 94 the ser number is 110xxx. Looking to get 700.00 obo for the one. From my research the gun is from 1935-37.
Located in Pahrump but can make my way to Vegas for transfer.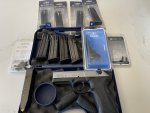 Last edited: