Sig P320 X5 Legion,
$1400
, $1300
Got it on a trade. Comes with 6 mags, barsto(installed) barrel, Gray Gun comp trigger and springs(installed), Wolff springs, SP Extended mag release and Armory craft sport takedown lever, and RHT holster(black and red) with Springer Precision hanger. All OE parts and case.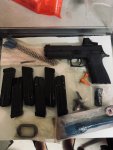 CZ Compact Shadow,
$1400
, $1300
All original except for CZ shadow 2 safety, CZ shadow 2 disconnector and 13lbs hammer spring. Comes with 2 mags, flat safety and case. Round count less than 1000.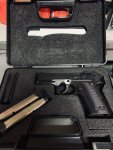 CZ Shadow 2 Orange with CZC Custom Optic plate system,
$2400
, $2300
Comes with 3 unused mags with orange basepads, springs, and take off parts. Installed CGW T5 disconnector, Extended firing pin, floating trigger pin, reduced power trigger spring, 11# hammer spring,10# recoil spring. Choice of cmore, dpp pro or sig romeo 1 optic plate.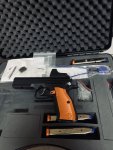 Red dots not included
Not interested in trades.
Buyer pays transfer fee.
PM me for more info and pics.
Thank you,
Mark Santos
Last edited: