Brand new never been used (with original packaging) bought when I went overboard on guns during 2020 and it looked like society might collapse. Located near paradise Las Vegas.
Gun, ammo and Accessories (
current cheapest price found on online not my selling price
):
Rock Island Armory VRPA40 ($300)
2x 5 round magazines
1x 9 round magazine ($30)
1x 19 round magazine ($60)
Savior Equipment The Patriot 45" Single Rifle Gun Tactical Bag - Obsidian Black ($40)
Allen Recoil Eraser, Recoil Reducing Pad for Shotguns & Rifles ($10)
Magazine speed loader ($20)
Total for all if bought online: $460
My selling price for just the gun & 2x 5 Rds mags: $175
My selling price for gun plus accessories and ammo we can negotiate based on what you want.
an assortment of ammo as shown in pic if you would like to buy at a discount as well.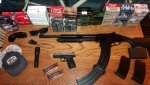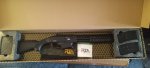 Last edited: